Independent Means Inc. is a California-based education company, specializing in financial and human capital education for families and family offices. We are educators and mentors, not financial advisors. Our CEO and founder Joline Godfrey is a pioneer in developmental, experiential approach to financial education. Her work gives families new tools for developing their human capital and raising children growing up in the midst of abundance.
Godfrey is also the author of Raising Financially Fit Kids, Our Wildest Dreams: Women Making Money, Having Fun, Doing Good; No More Frogs To Kiss: 99 Ways to Give Economic Power to Girls; Twenty $ecrets to Money and Independence: The DollarDiva's Guide to Life. She is a graduate of the University of Maine and Boston University (where she received an MSW) and was awarded an Honorary Degree in Business from Bentley College in 1995. She was a Kellogg Leadership Fellow and the recipient of the Leavey Award for Excellence, as well as the Beta Gamma Sigma Entrepreneurship Award.
---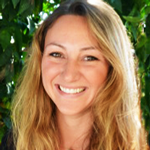 Whitney Webb is the Director of Operations, as well as a head Trainer and co-director of Camp Start-Up. Before coming to IMI, Whitney was a Kiva Fellow in Kigali, Rwanda where she worked to strengthen partnerships and increase the reach of microfinance, through employee trainings and industry research.
Whitney graduated from the University of Florida, and, upon graduation, accepted a position with Porter Orlin hedge fund, in NYC, where she performed investment research for the managing director. During her three years there she also volunteered at The International Center, teaching English and mentoring members who were new to the US. She left New York to travel and volunteer with various NGOs within southeast Asia and South America in the areas of education and business sustainability.
Whitney is a board member and volunteer business mentor at Youth Interactive, a non-profit teen center in Santa Barbara working to promote leadership and entrepreneurial skills.
---
Genine Iffla is the Director of Events and a head Trainer at Independent Means. Prior to joining the IMI team, Genine spent four years in Seoul, South Korea teaching in private and public schools, as well as facilitating communications and global interaction skills with business executives. She spent her free time traveling throughout Asia and becoming conversational in Korean.
Genine graduated from Florida State University with a degree in Communication Studies. While studying, she interned as a political communications strategist and as a reporter at WPBTV18, where she wrote, hosted, and produced informational broadcasts and was noted to be the first intern to have her programs aired. Upon graduation, she accepted the position as PR Executive for Ambit Advertising and Public Relations in Fort Lauderdale, Florida, working closely with various businesses, government agencies, and nonprofit organizations throughout South Florida and the US.
Genine is a volunteer business mentor at the Santa Barbara teen center, Youth Interactive. She has been known to go an adventure or two, traveling to over 30 countries and 30 states, and she is always looking forward to adding more.
---
Sarah Maine is the Director of Product Development for Independent Means. Sarah also works directly with client families, training teens and young adults, and has been co-director of Camp Start-Up and Fashion & Finance since 2013.
Before coming to IMI, Sarah spent ten years in the fast paced environment of film production in New York City. She worked on feature films by Woody Allen and Spike Lee, and on Dick Wolf's iconic TV show Law & Order. In 2008, Sarah enrolled in an MBA program to pursue a degree in business. Upon finishing graduate school, she worked as a buyer and manager for Saxelby Cheesemongers, a New York based distributor of American farmstead cheeses, and as a business plan consultant for Nutshell Projects, a small farm and food consultancy in Brooklyn, NY.
Sarah is a lover of ideas, especially ones that make the world a better place, and does her best to share them through her life, art and work. She followed up a childhood spread across Indonesia, Sri Lanka, and Italy by making her home in gloriously global New York City.
Sarah holds a BA from Wesleyan University, and an MBA in Organizational & Environmental Sustainability from Antioch University New England.